West Broadway Community Organization (WBCO) is a not-for-profit, charitable organization working to coordinate and support social, economic, and environmental development efforts in Winnipeg's West Broadway neighbourhood. WBCO is both a residents' association and a Neighbourhood Renewal Corporation, working with neighbours, community-based organizations, businesses, government, and other stakeholders to achieve community goals prioritized through regular, intensive consultation and planning efforts. If resources do not already exist, WBCO works with partners to fill gaps or to develop and deliver in-house programming.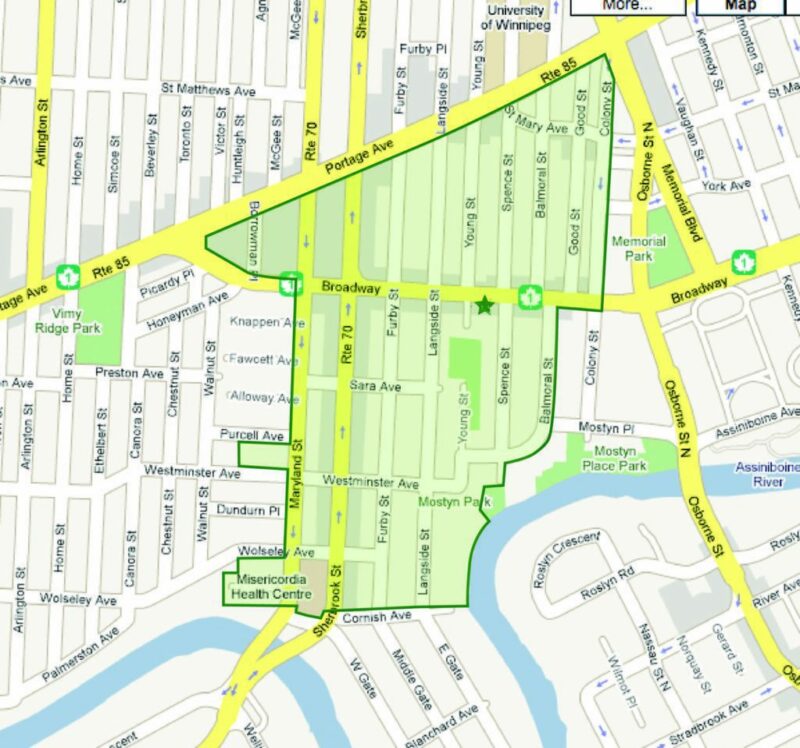 Some of WBCO's ongoing initiatives include coordinating the West Broadway Directors Network, the West Broadway Housing Stakeholders Committee, the West Broadway Small Grants program, and regular consultation and problem solving with local stakeholders from all sectors. WBCO also delivers in-house programming in community safety, food security, employment readiness, green space management, housing development and renewal, seniors engagement, economic development, eviction prevention, and volunteer coordination (among others).
Our Neighbourhood
West Broadway is situated west of downtown Winnipeg. WBCO's catchment is defined by Portage Avenue (north), the west side of Maryland Street (west), the Assiniboine River and Cornish Street (south), and Colony Street (east). WBCO also recognizes Gordon Bell High School, Mulvey School, and Westminster Church as falling within this catchment.