Good Food Club Markets
Good Food Club Mini Market
The Good Food Club Mini Market runs every second Wednesday from October to June inside the gymnasium at 185 Young Street. This affordable market provides the opportunity for guests to purchase locally made goods, meats, cheeses, and Good Food Boxes filled with fresh fruits and vegetables.

Due to COVID-19 Mini Markets have changed temporarily for the 2020-21 season.

Good Food Boxes will be available for pre-order. No loose produce for sale. Order your Good Food Box via our Good Food Box page.
New pickup location: 222 Furby St, Furby Entrance

Pick up and go only, no mingling.
Physical distancing and hygiene measures in place. Masks required.
West Broadway Farmers' Market
Join the Good Food Club every week during summer months for the outdoor West Broadway Farmer's Market! We have local produce (partnering every year with a local farmer!) and more available for sale inside the Edward Carriere Community Rink, located at 185 Young Street. Wednesdays from 2:00pm to 4:00pm starting July, through to the end of September.
Due to COVID-19 West Broadway Farmers' Market looks a bit different for summer 2022.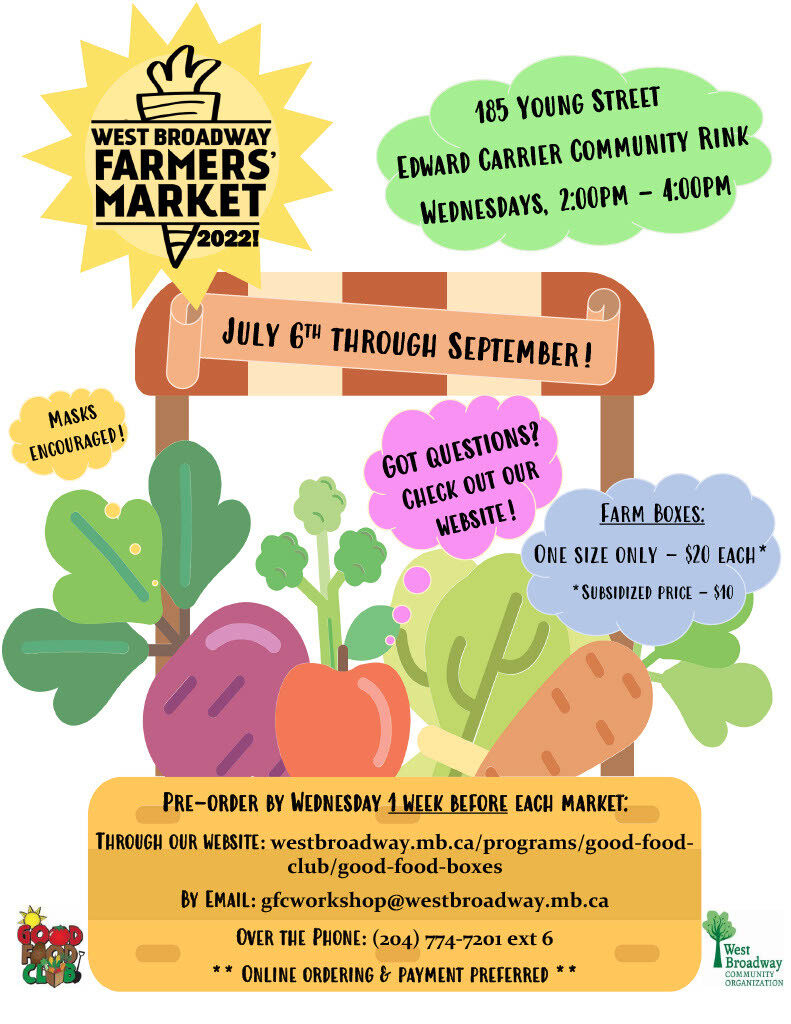 Vendors
COVID-19 UPDATE: We are currently accepting a limited number of vendors at our West Broadway Farmers' Market for the 2022 season. Contact Nicole at gfcworkshop@westbroadway.mb.ca for more information!