The Good Food Club Turns 20 Years Old!
April 25, 2022
The Good Food Club is 20 years old today!
In early 2002, funding became available to West Broadway Community Organization (then called West Broadway Development Corporation) to start a Good Food Box program. Mike Maunder, a Community Worker for the Development Corporation at the time, was asked to consult with West Broadway residents to determine if a good food box program would meet their needs. Through community consultation it became clear that the community wanted more! Community members themselves came up with the ideas and activities that have transformed into what the Good Food Club is today. The first meeting of the community group that decided to call themselves the Good Food Club was held on April 25, 2002. Over the next few months, they held several meetings, started working at a local farm, started a summer cafe, and began distributing produce out of the "Veggie Van". While the Good Food Club has grown and adapted over the years, what has remained constant is the club's commitment to ensuring the community is closely engaged in improving their own food security.
Last week, the Good Food Club's work over the past 20 years was recognized by Lisa Naylor, MLA for Wolseley, in a Member Statement to the Legislative Assembly of Manitoba. We were honoured to sit in on this reading and thank Lisa for taking the time to recognize our work in the community.
Please stay tuned for more information regarding 20th anniversary celebrations in the coming months.
(historical information from: How a Good Food Box Program Turned Into An Intense Summer of Community Activity Report, by Mike Maunder)
See the reading of the Member's Statement here: https://fb.watch/cCJ7JztE78/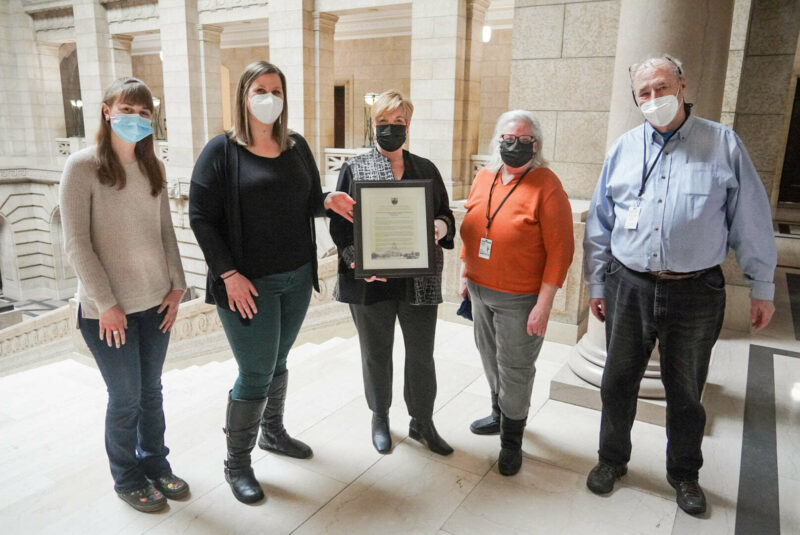 From left to right: Nicole Sward, Good Food Club Initiatives Coordinator; Ailene Deller, Good Food Club's Program Director; Lisa Naylor, MLA for Wolseley; Katherine Carruthers, long-time member and volunteer and Mike Maunder, first Coordinator of the program.
Photo Credit: Lisa Naylor, MLA for Wolseley