Landlord & Caretaker RentSmart Workshop Series
April 22, 2021
6:00pm – 7:30pm
Online Event
West Broadway Community Organization presents: Landlord & Caretaker RentSmart Workshop Series
Join us April 22 from 6:00-7:30PM for a workshop on grants available for rental property renovations.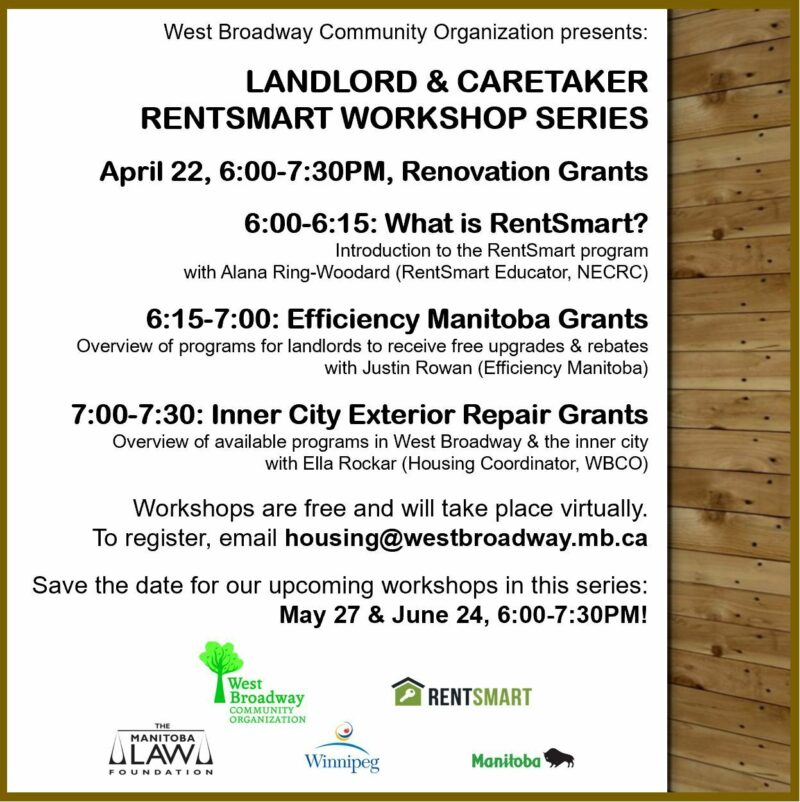 We will hear from:
Alana Ring-Woodard, RentSmart Educator at the North End Community Renewal Corporation, who will introduce the RentSmart program.
Justin Rowan, Research Analyst at Efficiency Manitoba, who will provide an overview of programs for landlords to receive a wide-range of FREE energy saving upgrades and rebates, as well as the application processes.
Ella Rockar, Housing Coordinator at West Broadway Community Organization, who will provide an overview of available exterior repair grant programs for landlords in West Broadway and the inner city.
Workshops are free and will take place virtually. To register, email housing@westbroadway.mb.ca
Make sure to save the date for our upcoming workshops in this series!
May 27, 6:00-7:30PM, Safe Work Q&A on COVID19, biohazards, and other risks
June 24, 6:00-7:30PM, RTB Q&A on Residential Tenancies Branch processes