West Broadway Physically Distanced Spring Clean Up
May 7, 2021 – May 9, 2021
West Broadway Neighbourhood!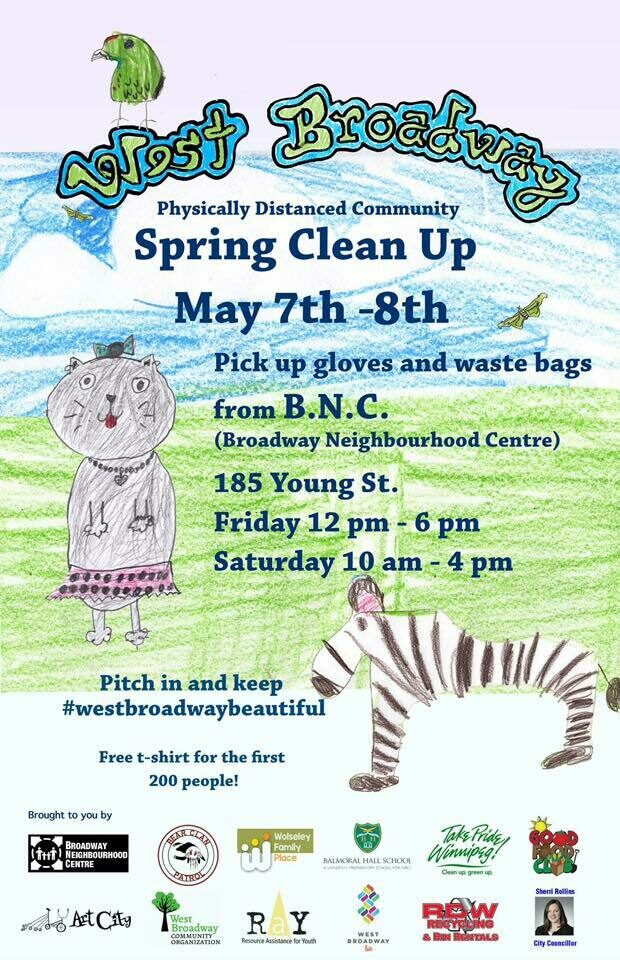 We invite you to participate in the West Broadway Physically Distanced Spring Clean-Up: May 7th-9th, 2021
West Broadway Spring Clean Up
May 7th - May 9th, 2021 (note date change)
Physical Distanced Edition

How to Take Part:

1.) Pick up supplies and information from outside Broadway Neighbourhood Centre (185 Young Street):
Friday: 12-6pm
Saturday: 10am-4pm
*Please wear a mask to pick up*
*The first 200 people can sign up to receive a specially designed West Broadway t-shirt.

2.) Clean on your own time, six feet apart from your friends all weekend!
3.) Return your garbage to the big dumpster outside BNC until Sunday evening.
4.) Post a photo and use the hashtag #westbroadwaybeautiful
Thanks for your help to make West Broadway an awesome place to live, work, and visit!
Please email wbspringcleanup@gmail.com for more information.

***
Proudly supported by: Art City, Balmoral Hall School, Broadway Neighbourhood Centre, Good Food Club, Resource Assistance for Youth, West Broadway Bear Clan, West Broadway BIZ, West Broadway Community Organization, Wolseley Family Place, Councillor Sherri Rollins, RDW Recycling, and Take Pride Winnipeg.

***